ATV Explore & Adventure Tour
to spectacular Playa Rincon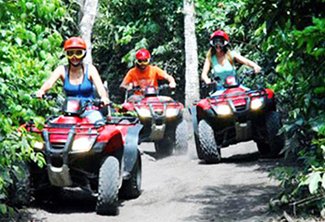 We pick up you directly on the port of Samana, in our Air Conditioned Bus for a 25 minutes travel to the ATV Base, where you will receive a safety briefing about how to operate your ATV and where you will meet your friendly and knowledgeable guide Euris Agueda!
After you will get ready to go cross country and see Samaná Peninsula from up close. You'll drive your ATV Vehicle trough some rugged terrain and we'll visit a Dominican family where we will make a quick stop to take some pictures of the nice view of Rincon Bay, drink a good Dominican coffee and enjoy delicious natural chocolate.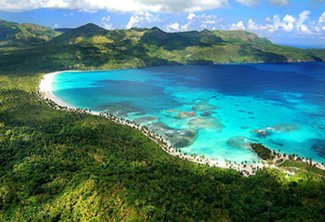 After we continue accross a little Village where you can enjoy the warmth of the native Dominican people on the road to visit one of the most exotic places in the region, one the most beautiful beach in the Caribbean, still virgin, World famous "Playa el Rincon". Where we will stop for about 1 hour and 30 minutes to enjoy the magical white sand and the crystal clear turquoise waters of the beach of Playa Rincon. There you can rest, drink, swim, explore, or just lie in the sun if you wish.
Then it's off to the small river of "Caño Frio" for some more swimming in clean cool fresh water or just make some pictures of the beautiful area.
• Round-Trip Transportation from Samana Port
to ATV Base
• ATV Adventure to Playa Rincon
• Soft Drink, Coca-Cola, Sprite, Natural Water
• Professional Tour Guiding

4:15 HOURS OF PURE FUN and UNFORGETABLE ADVENTURE!
We GUARANTEE you to be back at least 1 HOUR at the port of Samana
before your last tender to ship.
1 ATV with one Adult : $88 USD
1 ATV with two Adults : $110 USD
1 ATV with Adult + Child : $103 USD
Children Ages are: 6 to 12 years old.
Our Fleet of ATV's: Yamaha 350 cc Automatic.
Ask for our Discount for GROUPS of 4 and over
PLEASE NOTE : Not recommended for: Children under 6, the physically handicapped, people with vision problems, pregnant women, person with problem in the right hand, people who can't drive. Allowed ages are from 16 to 60 years old. ( Persons under 16 are not allowed to drive )